Safaria Diary : 3 Day Naturalist Safari in the Kruger Park
by Andrew Wagner
We recently spent 3 amazing days with the team from BirdingAfrica journeying through the central Kruger National park on safari. The purpose of the expedition was to get 13 naturalists with a keen interest in wildlife, closer to the Kruger's many wonders.
Having already spend 10 days travelling from Cape Town through the Garden Route to Kruger, this leg of their journey explored the abundant diversity between the thorn-tickets surrounding Skukuza to the central grasslands around Satara.
For this stretch of their journey Safaria lead the team under the guidance of PVT Guide Andrew Wagner through very specific habitat to particularly maximise on their birding opportunities.
"The team had up to this point already documented over 200 bird species and our goal was to get them another 120 savanna species" – Andrew
With the Kruger National Park boasting roughly 520 of the 980 species found in South Africa, our clients where sure to add to their life lists but the challenge was ensuring that the correct habitats where explored as nearly 70% of Kruger's birds still had not returned from their summer feeding environments.
Day 1 : Skukuza Thorn-Thicket
Our first day was really tough with a midday high of 40 degrees, guests struggled, animals slept and the birds where in dense undergrowth in search of the coolest hideouts. Our day started with a slow meander down the Sabie River Road and brought is a few great sightings that included Hyena, Elephant, Buffalo and some nice birds. Notable bird species included African Fish Eagle, White Crowned Helmet Shrike, Southern Ground Hornbill, Trumpeter Hornbill, Rollers, Tschagra's and Waxbills. The first day was a general orientation day and the goal was to pick up as many common species as possible to get the list rolling. Our Midday was spent in the shade at Lake Panic Hide which offered us Bushbuck, Water Monitor lizard, over 3o Hippo, Crocodile and Giraffe. The birding was fairly good with Water Thick-Knee, Pied and Hooded Kingfishers as well as Plovers. The Afternoon was spent at Nyamundwa Dam with a Herd of 200 Buffalo.
Day 2 : Skukuza to Satara
With the weather being slightly cooler the day was off to a good start with a sighting of 4 Lions in the Sabie River and a few lovely morning song birds. Our journey to Satara was a full day safari covering 100km but full of wonderful sightings. Day 2 was about looking for specific species of mammal and bird. Our mammal goal was to find Leopard and Cheetah and specific birds such as Korhaan and Bustards. The day was a huge success adding over 40 new birds that included Kori Bustard, White Headed Vulture, White Backed Vulture, Lappet-Faced Vulture. One of the highlight sightings of the trip was two male lions just off the S33 dirt road that were feeding on Giraffe only a meter or two off the road. Our day ended with a wonderful sighting of a female Cheetah just before Satara Camp.
Day 3 : Satara Region
A day in search of Lions and Grassland birds that certainly did not disappoint. Early morning we set off in search of Ostrich. To many this seams far from the typical exotic, multi coloured bird varietal but is indeed one of the rarer and region specific birds with a small population. We fortunately didn't travel far and already ticked Ostritch and Kori Bustard again along with a head of 100+ Buffalo. Viewing the Buffalo gave us a rare sighting of Yellow Billed Oxpecker taking final days list to 133 Kruger species. Ending the day on the fabled S100 loop via N'wanetsi hide we managed to add a further 19 Lions to our list which ended on a 36 Lions over the 3 days. This surely must be a near Kruger record.
In the end we had ticked of many notable species, here is a brief list of the special sightings :
Mammals :
Lion
Cheetah
Leopard
Spotted Hyena
White Rhino
Buffalo
Sable Antelope
Black Backed Jackel
Impala
Giraffe
Zebra
Blue Wildebeest
Kudu
Nyala
Bushbuck
Waterbuck
Steenbok
Grey Duiker
Kilpspringer
Birds :
Southern Ground Hornbill
Kori Bustard
Ostrich
Green winged Pytilia
Lizard Buzzard
White headed Vulture
Lappet Faced Vulture
Saddle Billed Stork
Yellow breasted Apalis
Striped Kingfisher
Black Cuckoo Shrike
African Wood Owl
Wahlburg's Eagle
Bateleur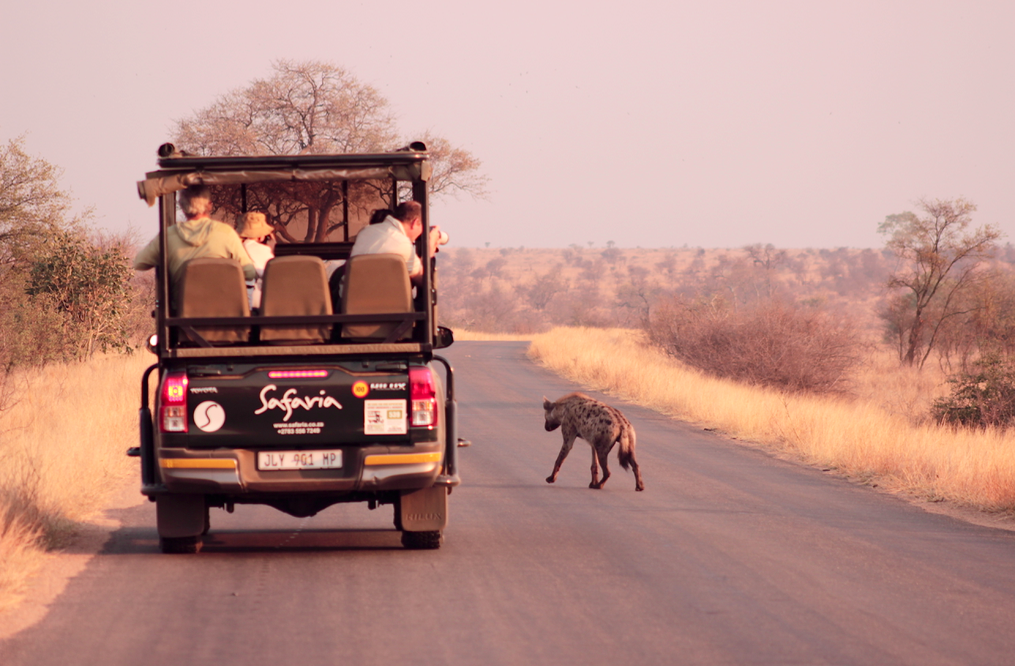 In the end it was a very successful journey that showcased the Kruger National Park and its wonder-filled diversity. The two regions provided deeper insights into the variety of fauna and flora.
Ig you are looking for to experience the Kruger National Park on a Privately Guided Safari then get in contact with us by sending a mail to info@safaria.co.za