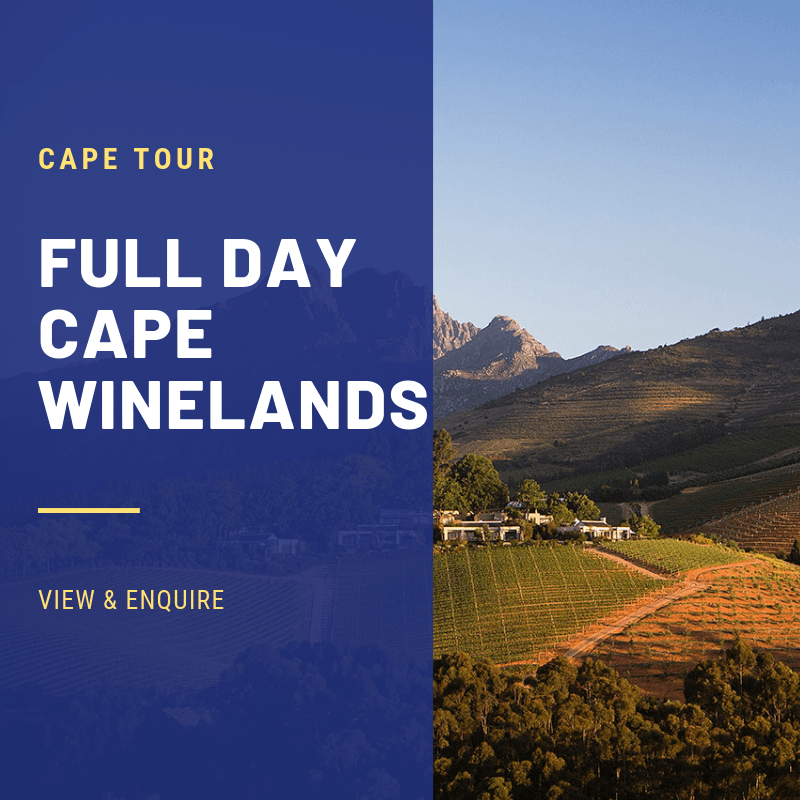 *The per person rate includes all of the below stipulated destination entrance fees and permits. Should guests wish to pay there own entrance fees for the below destinations, the value of these is R300pp.
All entrance fees are charged as publicly marketed.
Full Day Cape Winelands Tour
---
Duration: 10 Hours
Price: From R2,100 per person
(Includes specified entrance fees)
---
Highlights :
---
Your own Private Cape Guide
Luxurious, spacious air-conditioned vehicle
Explore the beautiful Stellenbosch Wine Route
Avoid the peak periods of the day
Experience the most scenic roads
Learn, Explore & Understand More
Wine tastings at two of our favourite estates
Artisanal chocolate tasting
Solo Supplement Available
---
---
This private guided tour takes guests deep into the historical Stellenbosch wine lands along one of the most famous wine routes in the Cape. In Stellenbosch they say that every bottle of wine is an ambassador for the region and South Africa. The Stellenbosch Wine Routes are an experience for all seasons, a place where memories are made in a town with a proud history, stunning views and great estates.

We drive out on the N2 towards the beautiful scenic wine capital for Stellenbosch
We start with a visit to the Dorpshuis (town-house) museum to create a historical backdrop and understanding to the town and its establishment.
We then journey along the wine route to two of our favorite estates that both epitomize the historical element of the region as well as the beauty and nostalgia of the Stellenbosch region. These two estates being Delair and Boschendal. Time permitting we may visit a third estate.
After your wine tastings we enjoy a Huguenot fine chocolate tasting near the old Huguenot monument which represents the rich Dutch and French influence in the region.
We return via the prison where Nelson Mandela was released and have an opportunity to pose next to the Madiba statue.
After your pic's we begin our journey back home to your accommodation.

Our Safaria, Cape Day Experiences have been created to offer our guests a very unique and personalized experience of the South African Cape Peninsular. Our style of day trips, whether in the Kruger National Park or in and around the Mother City (Cape Town), are crafted by passion and experience to offer you more than just a tour. All of our experiences are Privately Guided in a Luxury SUV or Bus and designed by a Cape expert with over 25 years of experience in the field. What makes our experiences unique lies in the manner in which we structure our day tours. Each tour is planned to incorporate all of the iconic destinations and vistas but we do it in such a way that we avoid the peak periods during day and try to give you more exclusivity at each destination and to personally enjoy.

+/- 08H00 to +/- 18h00 daily from your accommodation in and around Cape Town.

Private Expert Guide
Private, Luxurious, Air-Conditioned Vehicle
2 Wine Tastings at Del-Air and Boschendal Estates

Breakfast, Lunch and Tea
Items of a personal nature
Travel Insurance

Children under 8 years are half price.
No children under the age of 18 may participate in any of the wine tastings.
Kindly note that some 3rd party operators do not offer a discount for children.
We offer a pick up and drop off service for all tours from central areas around Cape Town.
For Terms & Conditions please refer to your booking confirmation are alternatively visit www.safaria.co.za.
Kindly note that we cannot guarantee any specific animal sightings or whale sightings for any of our Cape of Good Hope or Hermanus day tours. These are wild animals in their natural habitat. This also applies to the Penguins and Ostriches. Your guide will however share his knowledge with you in the regard and offer the best possible photographic opportunities.
Safaria reserves the right to terminate any tour services based on poor behavior and conduct that causes public disturbance.
Entrance fees charged by third party service providers may differ for children under the age of 12 years. In order to qualify for children's rates (when children's rates are available), the child must be accompanied on the tour by 2 adults.
All guests and parents of minors take full responsibility to ensure that they are wearing their seatbelts whilst travelling, Safaria accepts no responsibility for any client that does not abide by this road traffic regulation.
• Passenger liability – R50mil. • Prices valid until 31 October 2019.