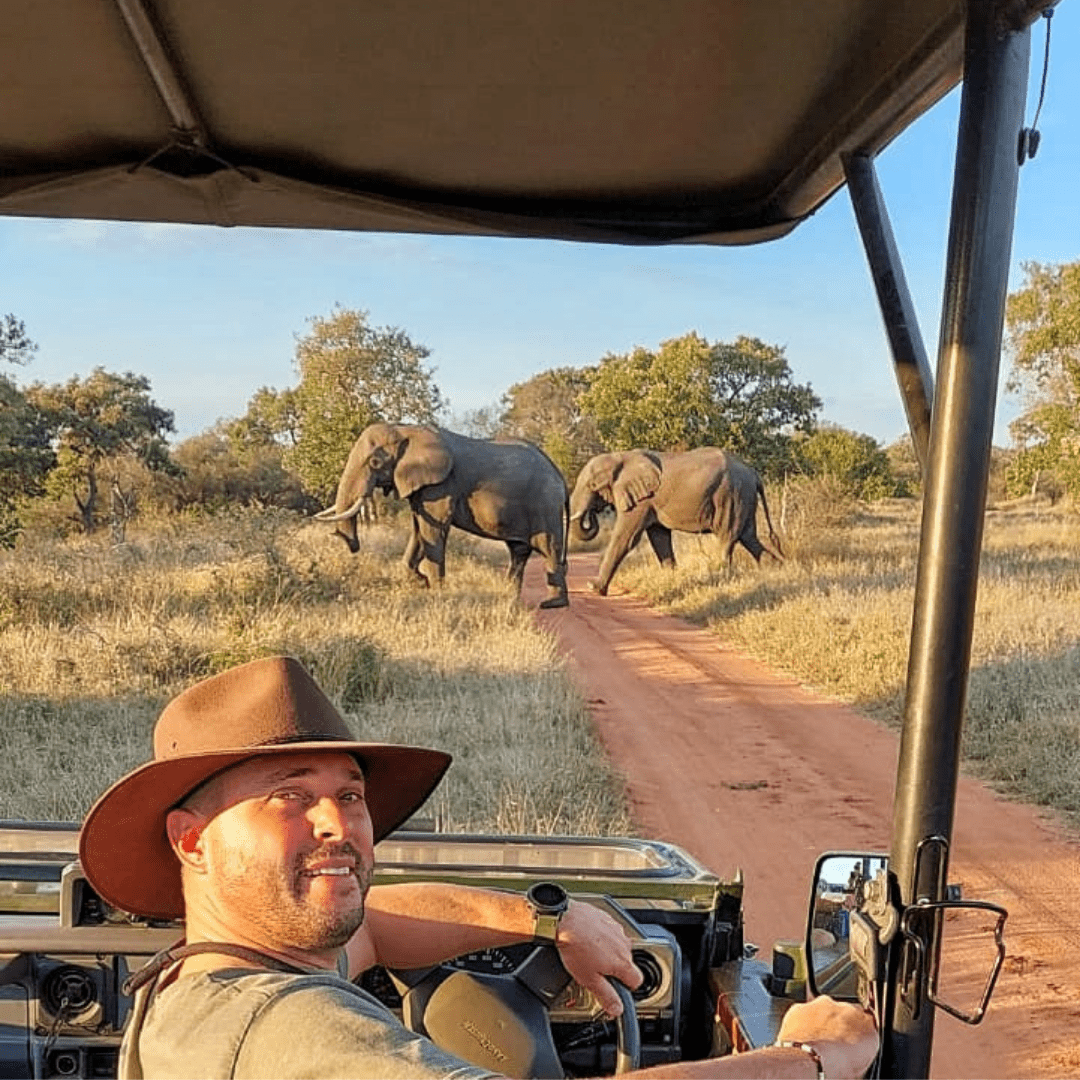 hello. lets go on a journey together.
From a small farmstead outside Johannesburg to a city slicker and corporate star, Andrew's journey from the business world to the wilderness is a story of re-wilding the spirit and living in a place of purpose. His journey and unique experiences mixed together with natural sciences and ancient bush wisdoms combined to create a safari style and narrative that leaves his guests captivated and fully engaged.  
As a young boy Andrew would sit and listen to stories of his great-grandparents and grand parents who lived and grew up in a time of transport riders, gold miners and hunters in the early days of the Lowveld. Stories of great adventures with names such as Fitzpatrick and Wolhuter across what is today the Southern Kruger National Park. 
These are the stories that captivated Andrew's imagination and a passion for wilderness and wide open spaces. Having spent his youth on a small farmstead north of Johannesburg, his deep connection with the wilderness was birthed from a young age and inspired a deep love for the natural world. Since childhood Andrew has many harrowing stories from close encounters with Leopards and Black Mambas, to deadly snake bites and malaria. 
Its was only once he began to pursue a more spiritual lifestyle that existence and purpose began to question his pursuit for happiness. The so called successful path to life from university degree to fancy corporate title, country club memberships and the golden handshake of retirement didn't seem to equal purpose or happiness and so Andrew turned to his faith and the wilderness to find truth. 
Today as a professional wilderness guide, Andrew uses his experiences and epiphanies to create a safari narrative unlike any other. With a vast knowledge of the Kruger National Park, its wildlife, history and heritage, Andrews safari's offer clients and far deeper understanding of this wilderness and an experience unlike any other in the Kruger. Said to have a 'David Attenborough-like" ability by his clients, the way he is able to share knowledge and create experiences has lead to him being sort after by local and international celebrities, princess and globally respected businessmen. 
What matters most to Andrew is connecting people with the wilderness and whilst sharing in fascination, his goal i to help people re-wild themselves and he uses nature as an example of perfect purposes. 
Andrew has a business background with a passion for brand strategy and marketing. He is a qualified wilderness guide through FGASA, the leading Field Guide training association in Southern Africa with further qualifications in tracking and savanna birds. 
"Andrew is the best guide in the business. His Safaris are a mix of history, biology, ecology and humour that is unrivalled" 
Vusi Thembekwayo - World Top 12 Speaker | Best-selling Author | 2020 GQ Business Leader of the Year