10 Reasons to visit Kruger National Park with Safaria
With so many options to choose from we ourselves are overwhelmed by the number of Safari operators that you can choose from to take you on a Safari in the Kruger National Park. We tried to put ourselves in our clients shoes when making a decision on who to select and decided that we would rather give you 10 good reasons to go with Safaria.
Reason 1 – We are a authentic, privately guided safari and tour operator
So what does that mean ? It means that the vast majority of what you see is not actually conducted by that company but rather someone else who was prepared to meet their rate requirement. This is a dangerous to way to make your choice unless you are happy to share and travel on a very lite budget. On-selling in most cases erodes quality and can leave one disputing what was paid for.
Travelling with us is exactly that, we personally engage you and design your safari around your expectation and then we also deliver it. We have our own brand new state of the art safari vehicles and our own guides personally guide you throughout your Safari. This offers you peace of mind knowing that you are dealing with the origin operator and that standards are not compromised.
Reason 2 – What our clients say
Perhaps the easiest way to give you any reason at all to book with Safaria would be to simply let you see what our clients say. You are welcome to see exactly what they have all personally said on TripAdvisor or Facebook or even Google. Here is just one of the many things our clients have to say :
"Having led over a 130 tours all over the world, I really do believe Safaria is one of the best operators I have had a chance to work with" – Gregory Smith – Naturalist Journeys USA.
Reason 3 – Our Safari Style
Our Safari style is one of many special ingredients that help create our personalised safari experience's, and it all stars with passion. We pour hours and days into planning every single one of our Safaria itineraries. From our Kruger National Park Day Safaris to our Overnight Safaris, we have taken our time to establish routes that embody the essence of each experience and capture all of the history and heritage of the regions we travel through as well as great detail on all of the Fauna and Flora of Kruger. This is so important to us because we believe that every client should have the opportunity to experience the very best of Kruger and there is just no way a daily departure can offer that. If its a Day Safari, Overnight Safari or Special Interest Safari, we personalise each trip to our clients, their interests and then deliver it to the highest standard. As the pioneers of the Premium Kruger National Park Safari experience we have a vast network of colleagues and specialists that collaborate with us on all aspects of "Kruger". When we add this all together we create our very own Safaria formula and its blends decades of Kruger knowledge and experience with ancient bush wisdoms and modern day sciences to offer clients a wonder-filled storyboard.
Wouldn't you want to know that your Safari operator has personally gone to great lengths to ensure that they personally offer you the best Kruger experience out there!
Reason 4 – Trusted partner and our affiliations !
Trust is a big thing these days in travel and tourism and as a client you should ensure that your Safari partner meets the minimum requirements in order to operate. The first thing we always look for is their affiliations and whether or not they are associated to any industry bodies. For example we are members of the South African Tourism Services Association (member 2466) which means that we, as SATSA members, adhere to a strict Code of Conduct and are required to submit documentation pertaining to our business annually so that the association can verify they are indeed running a healthy safari business that can be recommended both locally and internationally to clients, agents and tour operators. All SATSA members are also bonded with third-party indemnity, ensuring financially sound relationships when using them as as travel service provider.

Reason 5 – Quality guided experiences !
As a business we lead from a the front in pioneering the highest quality experiences for our guests. To do this on the front end means that we need to ensure that what we are putting in the best skill sets to deliver our clients world class experiences. Perhaps the most important part of this is the "Guided Safari Experience". SANParks and the Kruger National Park have a minimum guiding requirement which for us is somewhat lite in detail and as such we only use FGASA (Field guides association of southern africa) qualified guides for the level of depth and knowledge they can offer clients. A FGASA qualification in our opinion is the benchmark and gold standard of guiding qualifications and this translates directly to the kind of quality experience that our guides are able to provides our guests.
Reason 6 – Flexibility
We don't do the sausage machine, nor do we have a cookie cutter mentality!
Every single guests experience is bespoke. Yes we do of course offer our clients and option to do either a half, full day or overnight safari format but for each client its different. No two Safaris are the same. From the very start our engagement is personal and the entire itinerary is structured our our clients needs so that we can ensure that they get the absolute best out of their experience. There are no call centres, agents or middlemen involved, our clients deal directly with Andrew the owner and head guide and together he establishes your very own personalised Kruger National Park Safari experience.
Our advice for any guests visiting the Kruger National Park is go with a owner guided, owner operated Safari business. Get the absolute best out of your experience, don't fuss over an extra $100, rather entrust your memories to experts who have invested in their product and service.
Reason 7 – Our location has access to the entire Park
Being based in White River on the South West boundary of the Park, we are well positioned to access all of our clients locations between Crocodile Bridge in the South east corner all the way around to Paul Kruger Gate. This gives us access to the 5 main Kruger gates in the Southern region and all of the accommodation in the surrounding areas. If our guests are within 10km of the nearest gate we will even collect and drop off without charge.
These gates include :
Crocodile Bridge Gate – Malalane Gate – Numbi Gate – Phabeni Gate and Paul Kruger Gate.
Reason 8 – Experience the Kruger National Park with Andrew Wagner
Don't just go into the Park with anyone – go with a highly qualified and recommended expert!
If you have read any of our reviews you will quickly realise that Andrew is in fact Safaria. Whilst we do make use of a handful of highly qualified guides, Andrew the owner is the "Chief Guide" and true DNA of Safaria and our Safari Style. He pioneered the premium Kruger National Park Safari experience by offering clients the equivalent of a 5* Lodge guided experience in the Kruger National Park with innovative touches and attention to detail. Offering the very first Safari vehicles fitted with Nespresso machines, wifi and personalised sightings journals to add a few, it was really the standard of guiding and quality of the Safaria storyboard that really set the new standard in Kruger.
Andrew is an Advanced FGASA guide, FGASA qualified Trails Guide as well as Regional Bird specialist.

Lion encounter in Kruger National Park with Andrew Wagner / Safaria guest experience©
Reason 9 – Its who we are that makes the difference
We are a bespoke, owner operated Safari business with roots in and around the Kruger National Park since the middle 1800's. Our Safaria story board has been carefully curated to combine a wide variety of content which offers our clients an insight into the entire region from the Panorama range of the Blyde River Canyon to the early pioneers and the establishment of the Kruger National Park. Its a wonder-filled storyboard told from personal family stories to deeply researched archives and natural world facts. Its not something that can be replicated and at the heart of it all is passion.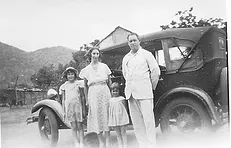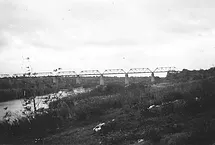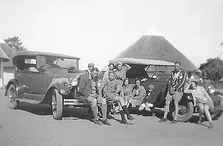 Wagner family archive from left to right : Andrews great grand-parents and grand mother at home in Barberton circa 1906, The family accessing Pretoriouskop 1932, Skukuza Camp and the Sabi river bridge 1936.
Reason 10 – Our different experiences
As a Safari operator in the Kruger National Park we offer the widest variety of Safaris available. We don't mean the number of overnights or Backpacker to Premium (we do that to) we mean the variety of different safaris by interest. We offer our clients the "general safari" experience but we also offer Special Interest Safaris that include Botanical Safaris, Geological Safaris and Birding Safaris throughout the Kruger National Park. The diversity of what we can offer our clients means that we can tailor and include so many aspects of fauna and flora that it makes for the most diverse safari experience in the Park.
So here you have 10 Reasons to want to make your next Safari experience in the Kruger National Park a Private Guided Safaria experience. If you have any questions or want to know more be sure to get in touch and send us an email to chat directly with Andrew – email us on [email protected]