Birding Safari Kruger National Park
Birding the Southern Region
With the Southern region of the Kruger National Park representing some of the most bio-diverse flora within the 20,000sqm kilometers, it is a particular productive area to go in search of the Kruger Parks 520 recorded birds species. Naturally this is season dependent but following the Sabie River (from the Swazi word Sabisa meaning "to be careful" because of the slipper rocks and crocodiles) between Skukuza and Lower Sabie, a Birding Safari can be richly rewarded as the savanna provides diverse systems to explore. The main road although busy, straddles many different eco-zones providing an interesting mixture of flora.
North of Lower Sabie on the eastern bank of the Sabie River lies an extensive range of sweet grasslands proving ample opportunity to go in search of the many grassland non-passerine species ranging from spur fowl to bustard and korhaans. There is also the possibility of spotting the rarer quails and button-quails.
Staying along the Sabie River front and following the riparian zone of large trees, this is a great vantage point to view some of typical water birds and waders in the Park. There is also the likely chance of viewing many of the larger raptors and aerial scavengers within the river bed or perching in the large trees. These include Vultures, Eagles and Storks.
Within the near vicinity of Skukuza Camp the bush thickens into a deep acacia thorn thick and this provides wonderful habitat for many of the smaller and more colorful birds from waxbills to bush-shrikes, eremomela, pytilia's and twinspots. A particular favorite of ours is to visit Lake Panic , the Skukuza Golf Course as well as nursery. This gives us the opportunity to leave our vehicle and go on foot in search of some of the species that dominate the thickets. Of particular interest in these areas are the ever elusive Gorgeous Bush Shrike and Narina Trogon. In the summer months one can spend an entire day just in these specific areas. With many large fruiting and flower trees and bushes there is a tremendous foot supply for both the frugivours and insectivorous species. A Birding Safari in the Kruger National Park wouldn't be complete without visiting Lake Panic. This rather famous location provides all year round water and offers a respectable number of birds even in the winter months. Whilst searching out many of the smaller more elusive bird species guests are also treated to regular large mammal sightings and quite often a short visit from the resident Leopard.
Am account of a Safaria – Birding Safari in the Kruger National Park.
Kruger National Park
Birding Safari with Safaria: February 2018

Guests from Ohio Ornithological Society out on Safari
We welcome all levels of birders from dedicated to occasional as well as true beginners. On this specific Birding Safari our guests had recently fallen in love with this past time and would safely say that they regarded themselves as amateurs looking to learn about Southern African Birds and capture as many new lifers as possible. This made for a very fun and informative day with 96 Species of birds been sighted.
Birding Safari Overview:
Guests: (3) From United Kingdom and New Zealand.
Level: Amateur
Season: Summer (February)
Area: Southern Kruger National Park
POI: Sabie River frontage, Lake Panic, Golf Course & Nursery
Guests where collect our Safaria Open Safari vehicle from Paul Kruger Gate to ensure convenient and quick access to the Sabie River area. Collection time was at 05h30am.
Area of focus: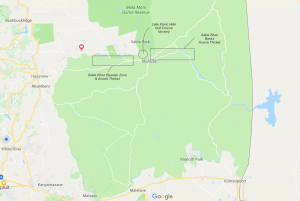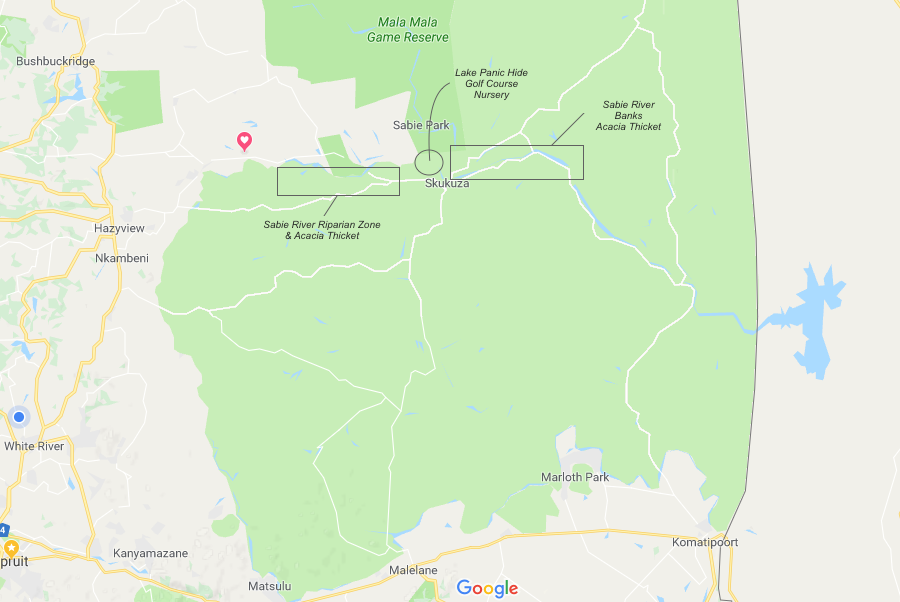 Guided Route:
We follow a very simple formula of staying close to water and following dense foliage that we could either be accessed by vehicle or foot. Breaking these destinations into time frames as follows:
Section 1: From 05h30am to 09h30am
Section 2: From 10h00am to 12h30am
Lunch Break
Section 3: From 14h00 till 15h00am
Section 2: From 15h30am till end of day
List of Sightings:
We managed to capture 96 confirmed sightings for the day. These were confirmed in pairs and documented in duplicate. All sightings were visually confirmed with many species also providing vocal confirmation. Below is the confirmed list of species recorded within a 12 hour period.
| | | | | | |
| --- | --- | --- | --- | --- | --- |
| 1 | Babbler, Arrow Marked | 33 | Guineafowl, Helmeted | 65 | Prinia, Tawny flanked |
| 2 | Barbet, Black Collard | 34 | Hamerkop | 66 | Puff back, Black Backed |
| 3 | Barbet, Crested | 35 | Heron, Greenbacked | 67 | Pytilia, Green backed |
| 4 | Bateleur | 36 | Heron, Squacco | 68 | Roller, European |
| 5 | Batis, Chin Spot | 37 | Hoopoe, Africa | 69 | Roller, Lilac Breasted |
| 6 | Bee-eater, Eurpoean | 38 | Hoopoe, Green Wood | 70 | Roller, Purple |
| 7 | Bee-eater, Southern Carmine | 39 | Hornbill, Grey | 71 | Scrub Robin, White Browed |
| 8 | Boubou, Southern | 40 | Hornbill, Southern Yellow billed | 72 | Scimitar, Common |
| 9 | Bul Bul, Dark capped | 41 | Hornbill, Southern Red billed | 73 | Shrike, Gorgeous Bush |
| 10 | Buzzard, Lizard | 42 | Hornbill, Southern Ground | 74 | Shrike, Orange Breasted Bush |
| 11 | Camaroptera, Green backed | 43 | Ibis, Hadeda | 75 | Shrike, Grey Headed Bush |
| 12 | Cisticola. Rattling | 44 | Jacana, African | 76 | Shrike, Red Backed |
| 13 | Cisticola, Red-faced | 45 | Fiscal, Common | 77 | Sparrow, House |
| 14 | Cormorant, Reed | 46 | Flycatcher, Paradise | 78 | Sparrow, Southern Grey Headed |
| 15 | Cormorant, White breasted | 47 | Flycatcher, Ashy | 79 | Spurfowl, Natal |
| 16 | Coucal, Burchells | 48 | Fycatcher, Southern Black | 80 | Starling, Burchells |
| 17 | Crake, Black | 49 | Flycatcher, Spotted | 81 | Starling, Glossy |
| 18 | Crombec, Long billed | 50 | Go-away Bird, Grey | 82 | Starling, Greater blue eared |
| 19 | Cuckoo, Jacobin | 51 | Goose, Egyptian | 83 | Starling, Violet backed |
| 20 | Cuckoo, Klaas (j) | 52 | Greenbul, Sombre | 84 | Sunbird, White bellied |
| 21 | Dove, Cape turtle | 53 | Kingfisher, Brown hooded | 85 | Swallow, Barn |
| 22 | Dove, Laughing | 54 | Kingfisher. Pied | 86 | Swallow, White throated |
| 23 | Dove, Emerald spotted | 55 | Kingfisher. Woodland | 87 | Tchagra, Brown crowned |
| 24 | Drongo, Fork tailed | 56 | Kite, Yellow billed | 88 | Tchagra, Black crowned |
| 25 | Duck, White faced | 57 | Lapwing, Blacksmith | 89 | Thick Knee, Water |
| 26 | Eagle, African fish | 58 | Lapwing, Crowned | 90 | Vulture, White Backed |
| 27 | Eagle, Brown snake | 59 | Mousebird, Red faced | 91 | Wagtail, Pied |
| 28 | Eagle, Tawny | 60 | Oriole, Black headed | 92 | Waxbill, Blue |
| 29 | Eagle, Whalbergs | 61 | Oxpecker. Red billed | 93 | Weaver, Thick Billed |
| 30 | Egret, Litte | 62 | Parrot, Brown headed | 94 | White Eye, Cape |
| 31 | Finch, Jamesons | 63 | Pigeon, African Green | 95 | Whydah, Pin tailed |
| 32 | Finch, Red billed | 64 | Plover, Three banded | 96 | Woodpecker, Beareded |
| | | | | 97 | Woodpecker, Cardinal |
| | | | | | |