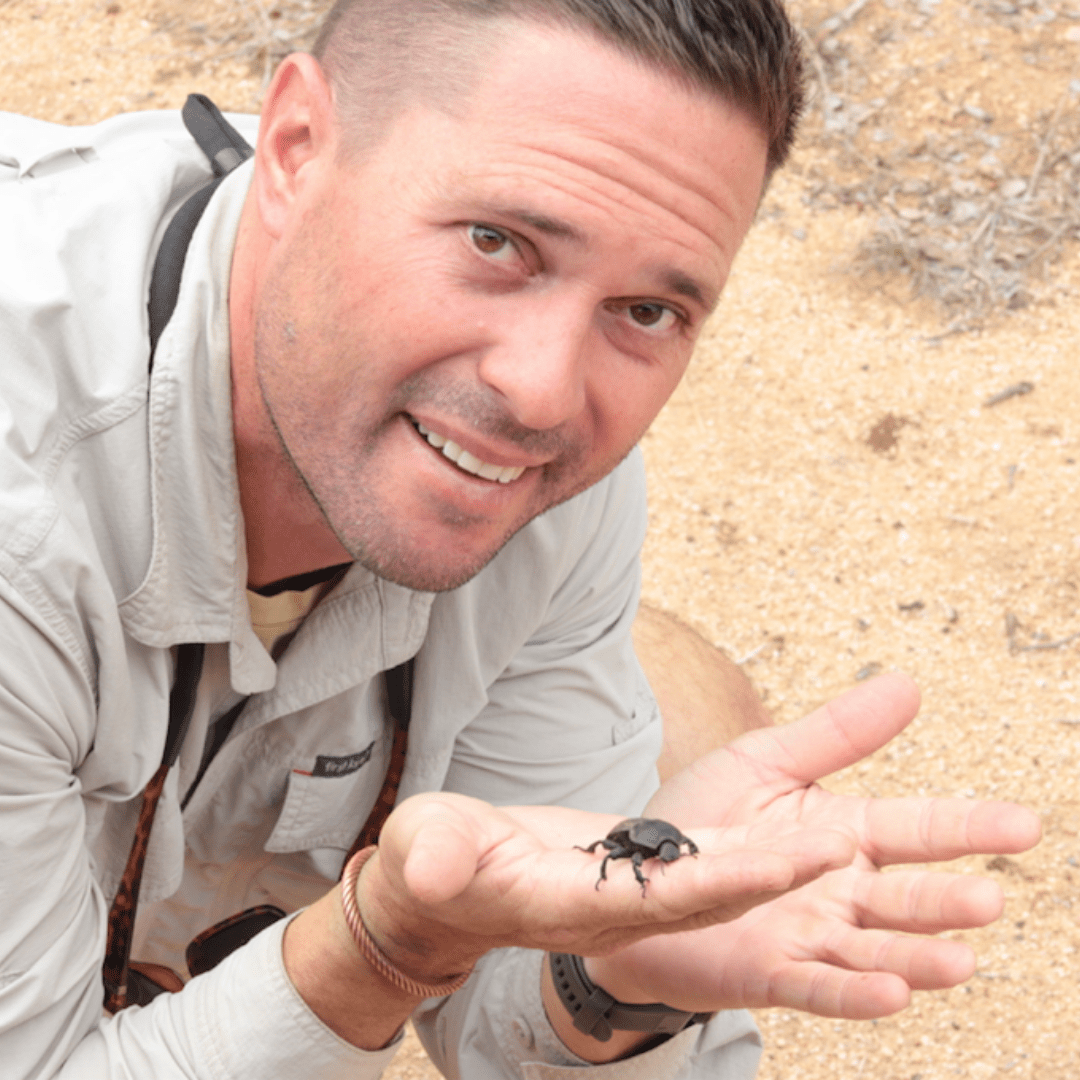 Andrew Wagner: A Journey from Fields to Wilderness Expertise
From the sprawling farm fields outside Johannesburg to the untamed wilderness of Kruger National Park, Andrew Wagner's life story is a tapestry woven with diverse experiences, deep connections, and a passion for nature that guides his every step. His journey is one of transformation from a successful corporate career to becoming one of the most sought-after guides in the heart of South Africa's iconic wilderness.
Born and raised on a farm nestled on the outskirts of Johannesburg, Andrew's early years were infused with the rhythms of rural life. It was here that his curiosity about the natural world took root, as he spent countless hours exploring the fields, observing wildlife, and absorbing the beauty of the landscape that surrounded him. This upbringing instilled in him a deep appreciation for nature's intricacies and a desire to cultivate a life deeply intertwined with its wonders.
After completing his education, Andrew embarked on a 17-year corporate journey that led him through the corridors of industry giants DaimlerChrysler, Mercedes-Benz, and Avis. His success in the corporate realm showcased his dedication, leadership, and strategic prowess. Yet, amid the boardrooms and business dealings, his heart longed for a connection to something more primal – the untamed wilderness that had always held a special place in his soul.
It was during these years that Andrew's family history, with roots tracing back to Barberton near the Kruger National Park, beckoned him towards a profound calling. The whispers of his ancestral land combined with his childhood memories of nature's beauty ignited a passion that he could no longer ignore. Driven by this deep connection, Andrew set forth on a new path that would redefine his purpose and bring him full circle to the embrace of the wild.
With unwavering determination, Andrew pursued his field guide qualification through FGASA (Field Guides Association of Southern Africa). This marked a pivotal turning point in his journey as he transitioned from the corporate world to becoming a guardian and interpreter of the African wilderness. Guided by his family's heritage and his own reverence for the land, Andrew embraced his role as a qualified Guide, Trails Guide, and Birding Guide.
In 2016, Andrew's vision and dedication took tangible form as he founded Safaria, a platform through which he could share the treasures of Kruger National Park with others. His guiding philosophy is rooted in sustainable tourism, ethical wildlife viewing, and conservation awareness. With every expedition, he endeavors to foster a profound connection between his guests and the natural world, offering them the chance to experience the magic of the wild in its purest form.
Andrew's reputation as one of the most sought-after guides in Kruger National Park is a testament to his expertise, his ability to connect with people, and his commitment to providing transformative experiences. His journey has been shaped not only by his family's heritage and his corporate background but also by the mentorship of FGASA Scout Andreas Liebenberg, whose guidance has deepened Andrew's understanding of the land and its inhabitants.
As Andrew continues to tread the paths of Kruger National Park, his story serves as an inspiring reminder that the call of the wild can lead us to our true purpose. From farm fields to boardrooms, his journey has been a remarkable evolution, culminating in a life devoted to sharing the wonders of the wilderness, connecting hearts with nature, and leaving an indelible mark on the souls of all who embark on this transformative journey with him.
"Andrew is the best guide in the business. His Safaris are a mix of history, biology, ecology and humour that is unrivalled" 
Vusi Thembekwayo - World Top 12 Speaker | Best-selling Author | 2020 GQ Business Leader of the Year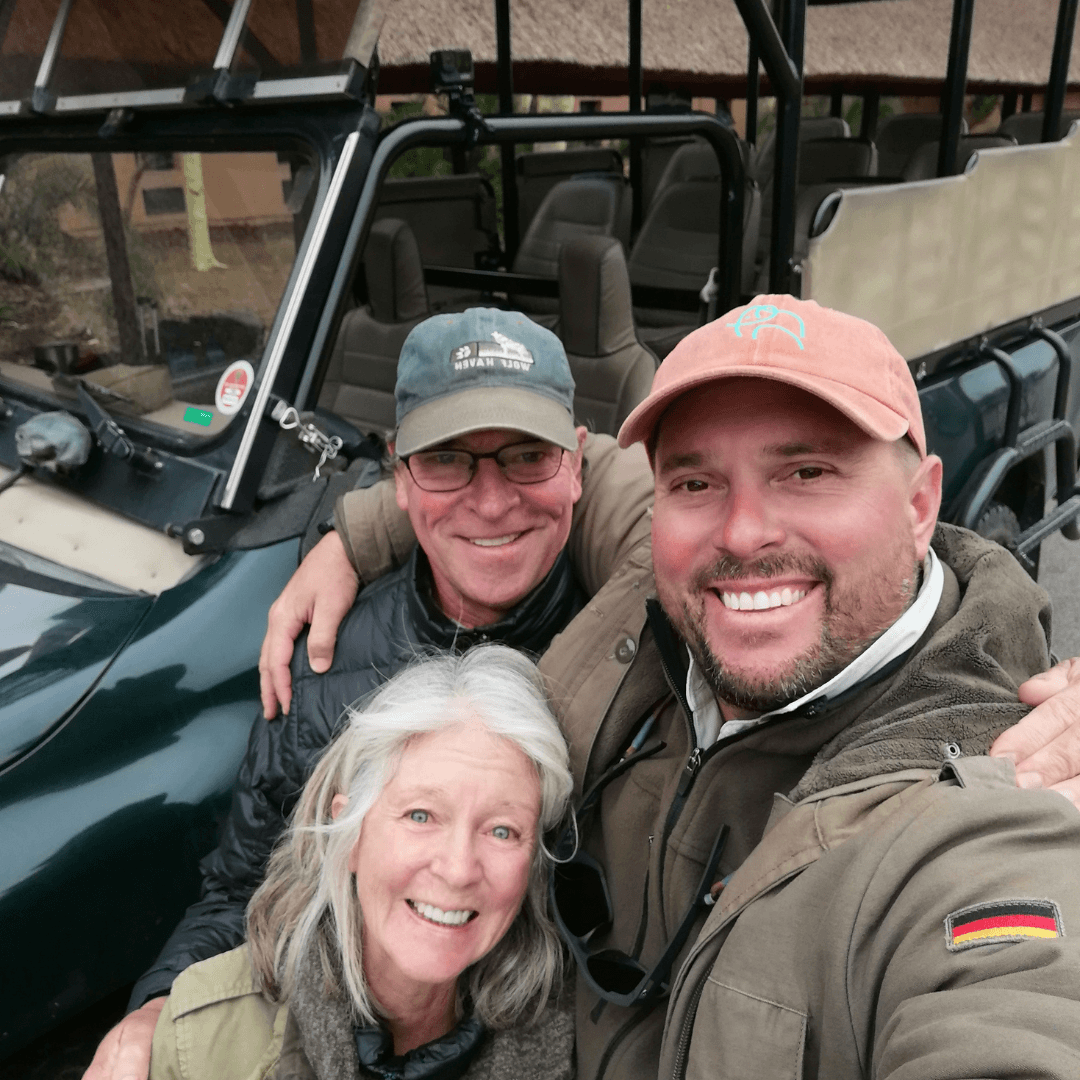 "Andrew, the grand wisdom keeper - thank you for all your sharing, caring, laughter, fun and deep-hearted intelligence. It was a pure joy to experience this bucket list trip with you. You are pure magic and a gift to the world"
Mark & Elizabeth Johnson - Pacific Northwest USA.
Such kind words for two beautiful souls. What was very special was to spend time with both Mark and Elizabeth and hear there own stories. Mark is in-fact the veterinarian (DVM) who lead the reintroduction of Grey Wolves into the famous Yellowstone National Park .

Let Andrew take you on your own Private Kruger Experience
The Safari Journey with Guide Andrew Wagner🦁
Get ready for a safari experience like no other, where the wild heart of South Africa comes alive with Guide Andy Wagner, the passionate and professional wild & life guide behind Safaria. If you are you ready for an unparalleled wildlife experience that will leave you awe-inspired and craving for more? then its time to embark on a mesmerizing journey through the breathtaking landscapes of Kruger National Park with Andy. 
🌟 Expertise Beyond Measure 🌟 Andrew Wagner, a seasoned Safari Guide with years of experience, is your passport to discovering the mysteries of the African wilderness. His profound understanding of Kruger's ecosystem, combined with an unquenchable enthusiasm for wildlife, ensures that every moment spent with him is an opportunity to learn, appreciate, and marvel at nature's wonders.
🔍 What Our Guests Share 🔍 "Andrew's unrivaled knowledge of the park's inhabitants left us speechless. His ability to spot even the most camouflaged creatures amazed us, and his storytelling added an extra layer of magic to our adventure." - Lisa M., Avid Adventurer
"Safaria's safari led by Andrew exceeded all our expectations. His infectious passion for conservation and deep respect for animals made our trip not only exciting but also deeply meaningful." - John H., Nature Enthusiast
🦓 Rave Reviews for Safaria 🦓 🌟 "Safaria's commitment to responsible tourism is truly commendable. Andrew's dedication to educating guests about wildlife preservation adds an invaluable dimension to their safari experience." - Travel Insights Magazine
🌟 "Andrew's ability to connect with both seasoned nature lovers and first-time safari-goers is a testament to his exceptional skills as a guide. The Safaria team's attention to detail ensures a seamless and captivating adventure for all." - Safari Enthusiast Weekly
🌟 "We were spellbound by Andrew's insights into the intricate relationships within the park's ecosystem. Safaria's focus on sustainable practices made our journey not only thrilling but also impactful." - Adventure Seekers' Gazette
🐘 Unveil the Enchantment of Kruger with Safaria 🦓 Safaria's Kruger National Park Safari, led by Andrew Wagner, is your gateway to an unforgettable experience that promises glimpses of the wild in its purest form. Whether you're a wildlife photography enthusiast, a family seeking an educational escapade, or simply curious about the world's most majestic creatures, this is your chance to be part of an epic adventure.