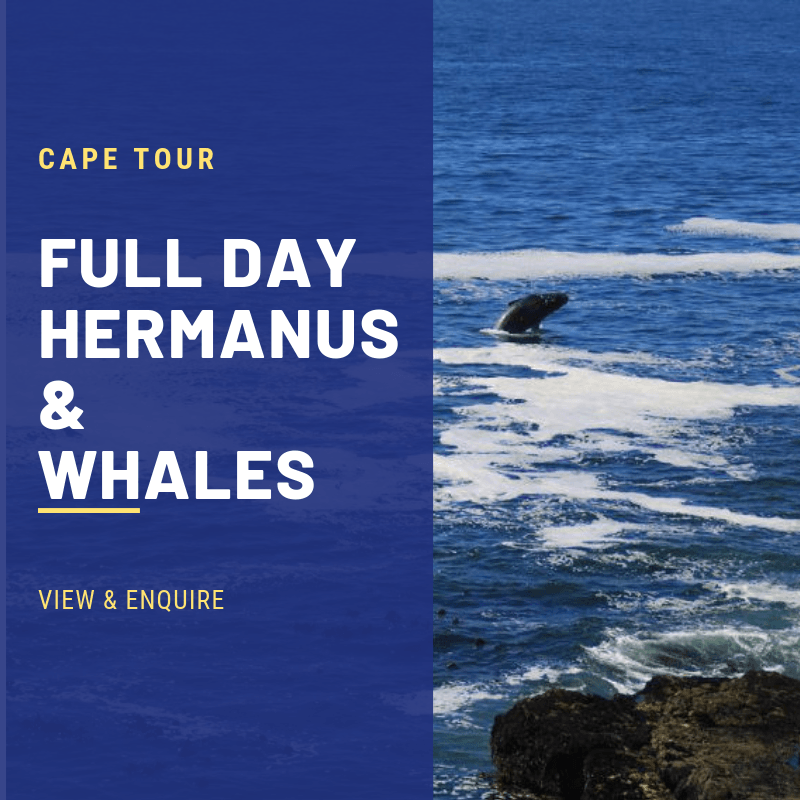 Hermanus & Whales Tour
---
Duration: 10 Hours
Price: From R2,100 per person
(Includes specified entrance fees)
---
Highlights :
---
Your own Private Cape Guide
Luxurious, spacious air-conditioned vehicle
Drive the beautiful Clarens coastal road
Look for Whales from the Walker Bay Cliff's
Explore Hermanus and ands its artisanal markets
take in the stunning hemel-en-aarde valley
Wine tastings at Finlayson Bouchard estate
Stop-pff at the world famous Peregrine Market
Solo Supplement Available
---
---
This private guided tour operates during the Whale Season between July and November annually. Whilst there is never any guarantee to see the Whales the tour still showcases the exceptional beauty and diversity of the Cape. Your guide will make every effort to find the best viewing point for Whales.
We take the N2 to the Strand via Gordon's Bay and join the scenic coastal Claren's Drive which offers spectacular views over False Bay. From this vantage one can also search from this vantage point and often see Whales, Dolphins as well as Cape Fur Seals.
We travel via Rooi-Els over the pass to Betties Bay for a chocolate tasting at Gaboli Chocolatiers.
Travel onto Kleinmond via Arabella Golf Estate before we arrive at the quaint holiday town of Hermanus.
There are wonderful Whale sighting opportunities from the main road as well as from the search the cliffs of Walker Bay.
We arrive in central Hermanus at a market overlooking the old whaling station harbor. Guests can enjoy a variety of artisanal made items from foods, to beer, gins and curio.
There may be an opportunity to join boat-based whale watching (for own account +/-R900 to +/-R 1000) and subject to availability and weather.
Our tour continues into the beautiful Hemel en Aarde Valley (Heaven and Earth)
We visit the Finlayson Wine Estate for a wine tasting (no wine tasting for children under 18 years). The estate is closed on Sundays, but a visit to the cheetah sanctuary will be included instead, if time permits.
We leave Hermanus at 15h30pm making our way back via the Bot River, Houhook Pass and apple orchards onto Elgin.
In Elgin we stop at the world famous Peregrine Market Stall.
Back on the road home we make one last stop at the view site of Sir Lowry's Pass enjoying the vistas of False Bay.
We return over Sir Lowry's Mountain Pass and enjoy the views of False Bay
Our Safaria, Cape Day Experiences have been created to offer our guests a very unique and personalized experience of the South African Cape Peninsular. Our style of day trips, whether in the Kruger National Park or in and around the Mother City (Cape Town), are crafted by passion and experience to offer you more than just a tour. All of our experiences are Privately Guided in a Luxury SUV or Bus and designed by a Cape expert with over 25 years of experience in the field. What makes our experiences unique lies in the manner in which we structure our day tours. Each tour is planned to incorporate all of the iconic destinations and vistas but we do it in such a way that we avoid the peak periods during day and try to give you more exclusivity at each destination and to personally enjoy.
+/- 08H00 to +/- 18h00 daily from your accommodation in and around Cape Town.
Private Expert Guide
Private, Luxurious, Air-Conditioned Vehicle
Wine Tasting at Bouchard Finlayson
Breakfast, Lunch and Tea
Boat based whale watching
Items of a personal nature
Travel Insurance
Children under 8 years are half price.
Kindly note that some 3rd party operators do not offer a discount for children.
We offer a pick up and drop off service for all tours from central areas around Cape Town.
For Terms & Conditions please refer to your booking confirmation are alternatively visit www.safaria.co.za.
Kindly note that we cannot guarantee any specific animal sightings or whale sightings for any of our Cape of Good Hope or Hermanus day tours. These are wild animals in their natural habitat. This also applies to the Penguins and Ostriches. Your guide will however share his knowledge with you in the regard and offer the best possible photographic opportunities.
Safaria reserves the right to terminate any tour services based on poor behavior and conduct that causes public disturbance.
Entrance fees charged by third party service providers may differ for children under the age of 12 years. In order to qualify for children's rates (when children's rates are available), the child must be accompanied on the tour by 2 adults.
All guests and parents of minors take full responsibility to ensure that they are wearing their seatbelts whilst travelling, Safaria accepts no responsibility for any client that does not abide by this road traffic regulation.
Passenger liability – R50mil.
Prices valid until 31 October 2019.