What are the Kruger National Parks Rules and Regulations?
With the Kruger National Park being a Park that is open to the public, its incredibly important that for everyones benefit we are all observing the Parks rules and regulations. These haven't been established just for the park but form part of a far greater framework that applies to all of the South African Nationals Parks sites. This is important to note as many of our travellers will enjoy more than just Kruger on their South African adventure and need to be well aware of these rules.
Its important to note that ALL of the below Kruger National Park rules are regulated by National Government and specifically the National Environmental Management: Protected Areas Act, 2003 (Act no. 57 of 2003). If you are found guilty of breaking these rules, you could face a fine or worse.
Lets start firstly by saying that when travelling with Safaria we are going to fully explain and share these with you to ensure that we maximise the experience in a positive way and also that we don't encroach or upset any other patrons experience. We take these riles far more seriously than most and know that when we all uphold these rules together we all have a better experience.
Here are the 12 golden rules and regulations of Kruger explained :
All visitors must remain in their vehicle at all times unless you are in a designated area with a sign board that says you can get out of your car. All vehicle/bus doors must be kept closed and no part of your body may be hanging out of the window, door or sunroof.
For the safety of the animals, big and small, there is a very strict maximum speed limit of 50 km/h ( 31mph) on the tar roads and 40 km/h )25mph) on the gravel roads. The Kruger Nationals Parks roads are considered National Roads and as such are subject to traffic policing and offenders will be reprimanded and issued with a fine either on the spot or at the gate. More importantly speeding increases the risk of hitting an animal or driving of a small critter. Its also spoils the atmosphere for other patrons wanting to experience other aspects of the park like birds and flora.
Pay close attention the the Kruger Parks gate times. These can be found in your entrance permit, on a official map or online. Whether you are travelling as a Day Visitors or Overnighting in the Park you need to be fully aware of these gate and camp opening and closing times. Guests that do not strictly adhere to these times will be subject to a fine.
Guests are not allowed to drive off road and any road that indicates a "no-entry" sign is completely off limits. Do not take chances you will be caught by either an park official or a official guided safari vehicle.
The feeding of animals as well as the disruption of animals as completely prohibited. This is a very serious offence and must be taken seriously. A mere cracker for a monkey can leads to monkeys then attacking people for food so don't feed the animals. Also there is nothing worse than trying to enjoy a sighting and a guests attempts to whistle or cat call it the animals for a better photograph or reaction.
All of Kruger National Parks accommodation, be it bungalows or camping sites has a standard check-in time from 14:00pm on the day of arrival and must be checked-out by 10:00am on the day of departure.
All Kruger Park Overnight visitors are only permitted to stay at the specific camp that has been booked and guests must report to the camps reception before trying to occupy accommodation or camping site at the respective camp.
Vehicles such as busses that are carrying more than 25 guests and weighing more than 4000kgs are only permitted to drive of the tar roads and are not permitted to use the dirt roads. This also applies to large overland vehicles.
The park has a strict noise pollution policy and these restrictions are applied daily from 21:30pm to 06:00am. Cell phone use is limited to the camps, gates and can be used in emergency situations. Our suggestion is to try and disconnect so that you can reconnect with nature.
The use of Bicycles, Skateboards, Roller skates and motorbikes within the Park, its campsites and any designated area is completely prohibited.
The Kruger National Park is a Malaria area and as such we strongly advise all guests to consult their Doctor before travelling to the Park.
The Park is not a zoo but guests can access Sightings Boards in each of the Rest Camps as well as entrance gates to establish were other guests may have seen certain species. These sightings boards indicate the following species – Lion, Leopard, Elephant, Buffalo, Cheetah and Wilddog. We strongly advise that all guests turn of their location services when using their mobile phones to take photos.
Should any guests have an emergency there is a 24- Hour Emergency Call Centre No: (013) 735 4325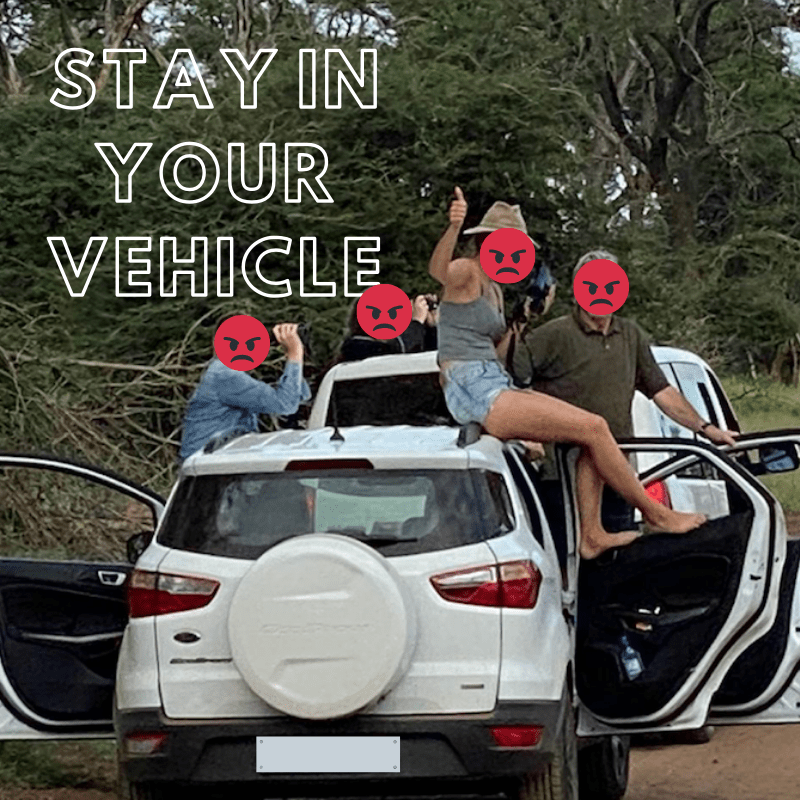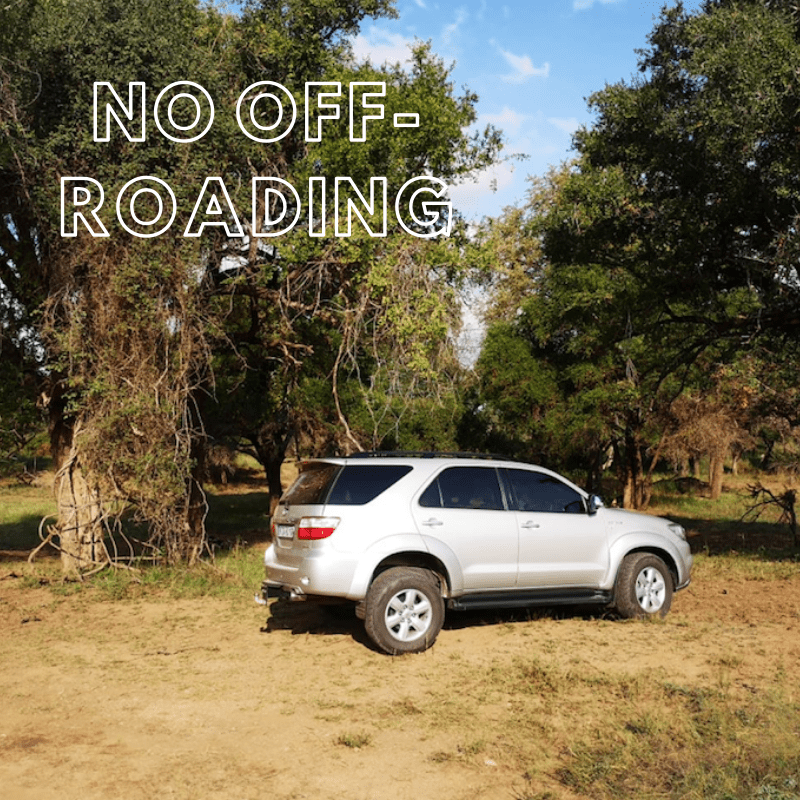 Its also important to note that The Kruger National Park is home to the State Veterinarian headquarters. As you plan and prepare for your Safari we kindly as that you please also obey the following Kruger Park Veterinary Rules:
No living animal, be it domestic or a wild species is allowed to be brought into the Park OR removed from the Kruger National Park. So NO PETS ARE ALLOWED and are strictly prohibited. Also don't pick up any animal remains and assume these cant be removed, they cant. Sniffer dogs are based at each gate and you don't want to be embarrassed when they find you have porcupine quills or a baby tortoise shell etc.

No raw or wild-animal parts such as meat, bones, animals organs and hides may be brought into the Park or removed from the Kruger National Park.
Raw meat and dairy products may be brought into the Kruger National Park for your own consumption. However, no raw products from cloven hoofed animals (milk or meat) will be allowed to leave the Kruger National Park through any of the official South African entrance gates unless it is still packaged or sealed in a container identifiably market to confirm its South African origin, source or distributor.
Commercially packaged fish and poultry are exempt from these restrictions.
Fully processed curios are exempt from these restrictions.
So there you have the set of Kruger National Park Rules and Regulations that need your attention and adherence. Stick to them and you'll have an unbelievable time.